We Optimize Your IT Environment to Improve Patient Outcomes
Looking to enhance patient care at a lower cost?
Does unreliable technology hold you back?
Having a hard time maintaining compliance standards?
Practices, clinics, and hospitals deploy emerging technology solutions to operate more efficiently. Advanced technology can help your healthcare practice increase productivity and lead to positive patient outcomes. You need assurance that your IT solutions can help you manage data securely while ensuring compliance with industry standards.
At V&C Solutions, we understand the value of time in healthcare practice and work to maintain smooth tech operations to focus on serving your patients. We provide cost-effective IT services for healthcare, customized for your specific business needs. Our certified technicians also provide timely problem resolution to keep critical business applications running efficiently.
A Trusted Team Of Healthcare IT Service Professionals Ready To Help With All Your Information Systems Challenges.

Does Your Healthcare IT Services Company Understand HIPAA Compliance?

Can You Healthcare IT Service Company Help With The Support Of Your EMR/EHR Systems?
Benefits of Our IT Services for Healthcare
V&C Solutions provides a reliable IT set up to improve quality of care while expediting and automating routine medical practice tasks. We handle all aspects of your IT environment, from server maintenance to business applications support, helping you leverage your tech investment. With regular automated backup solutions, we help to ensure that your system's data remains secure.
Our expert team offers comprehensive security measures like firewalls and antivirus software to protect business information. Count on us to virtualize your IT environment and provide enhanced access to your systems. Our solutions let you access client information while on the go, enabling you to administer remote care to repeat patients.
Our IT Services for Healthcare
Working with a reliable IT support company who can offer immediate support to maintain uptime is essential. At V&C Solutions, we understand the healthcare industry's unique challenges and offer around-the-clock support tailored to your specific business needs. 
Proactive Support
Let our tech team actively monitor your IT systems to maximize productivity while ensuring minimal downtime for your practice. Reach out to our help desk team that is at your service 24/7 to resolve any pressing issues. These services are available at a simple monthly payment, providing a predictable budgeting plan. Our consultants:
Offer deep industry knowledge to streamline your tech systems
Make recommendations for the ideal solutions fitting your unique needs
Data Security and Disaster Recovery Solutions
Protecting patient data is essential for gaining trust in the healthcare industry. V&C Solutions offers unparalleled security levels complete with dynamic backup and recovery solutions hosted on cloud servers. Our data protection experts can work with your tech team to eliminate risks. Our solutions help you:
Minimize tech expenses
Improve data loss mitigation
Maximize value through streamlined processes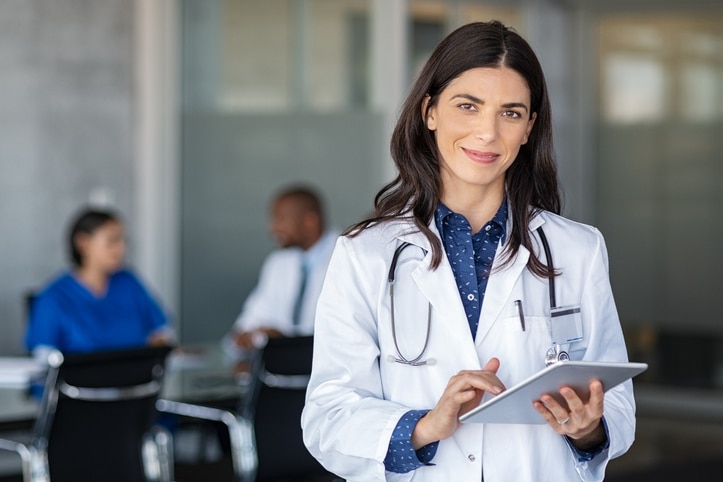 Managed IT Solutions
We provide IT services that allow your staff to focus on patient needs. Our team offers strategic planning, system integrations, and migrations to enhance service delivery. With our managed IT solutions, your business can:
Drive data processing to improve patient health
Provide connected healthcare to maximize resources
Create a streamlined patient experience
Drive Efficiency With Reliable IT Services for Healthcare
As healthcare technology keeps changing, your healthcare company needs a reliable partner to remain ahead of the curve. V&C Solutions delivers best-in-class IT services for healthcare services that empower your team to deliver outstanding service. Our expert team helps to resolve tech issues proactively, helping you focus on improving patient outcomes. Contact us today!